Baby V.O.X Fansite
Home - History - Members - Discography - Links - About
Jewelry
4-member girl group, 2001-2015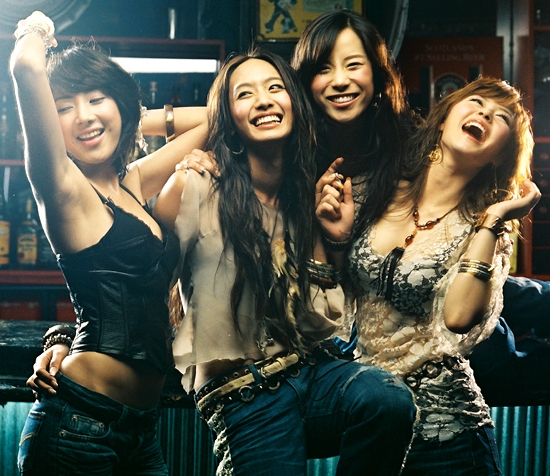 Left to right: Seo In Young, Park Jung Ah, Cho Min Ah, Lee Ji Hyun
Information
 Jewelry was a four-member girl group that was officially active from 2001 to 2015. They are most well known for their songs "I Really Like You" (Beloved, 2003), "Super Star" (Super Star, 2005), and "One More Time" (Kitchi Island, 2008). Jewelry was one of the first K-pop groups to release music specifically for the Japanese market after BoA's success there. The group spans four generations of members, although members Park Jung Ah and Seo In Young were active for longer than most of the other members and ended up gaining the most individual popularity. Seo In Young in particular went on to have a fairly successful solo career with songs like "Cinderella" after her departure from Jewelry.
 The group had built up a fandom and enjoyed relative success in Korea with their first four album releases. However, 2008's "One More Time" became so successful that it eclipsed their previous songs in terms of popularity, making them a sort of one-hit wonder even though they had other hit songs. "One More Time" scored the group their one and only daesang (the highest level of Korean music award), the Digital Record Daesang from the Golden Disc Awards.
 Jewelry unfortunately did not enjoy the same level of success with their next album Sophisticated, and Park Jung Ah and Seo In Young left the group at the end of 2009. They were replaced with two new members and the group redebuted in 2011, releasing a number of singles and a mini album in the following years. They never reached the same level of success that previous iterations of the group did and officially disbanded in 2015, bringing an end to the Jewelry story.
 My favorite era of Jewelry is 2002 to 2006. Their songs were great and their performances were some of the best in K-pop at the time, in my opinion. They always looked beautiful as well! Their styling, especially during promotions for "Be My Love" and "Super Star," provide some great examples of mid-00's fashion done right (minus some cuturally appropriated hairstyles, which was unfortunately par for the course at the time). They had a really nice R&B-influenced pop sound on their albums, which were well-produced but not quite as good other K-pop acts' albums at the time, such as Baby V.O.X's
Devotion
or TVXQ's
Tri-Angle
and
Rising Sun
.
 My favorite song of Jewelry's is "Be My Love." Although it's a dance-pop song, it has a laid back vibe that makes it a must listen for the summer. The harp and distorted guitar help give it this sound, and I love how the producer incorporated these elements! I also love Seo In Young's Xtina-esque look she wears on stage during performances of the song. My favorite album of theirs is
Super Star
. Unfortunately it's not on streaming services in America right now, but you can find the tracks on YouTube and K-Pop download sites. It has a good mix of dance numbers, mid-tempos, and ballads that are pretty essential to every K-Pop act. "시간에게 (I'll Be There)" is a stand-out track. It was produced by Nam Gi Sang (남기상), who also produced "Passion" and "Be My Love." He has a great way of giving dance-pop songs a romantic, fantastical ambience.
  My favorite Jewelry songs:   
Again
,
Maybe
,
Be My Love
,
Passion
,
Super Star
,
시간에게 (I'll Be There)
  My favorite Jewelry performances:
Members
1st Generation (2001)
  Park Jung Ah, Lee Ji Hyun, Jung Yu Jin, Jun Eun Mi
2nd Generation (2002-2006)
  Park Jung Ah, Lee Ji Hyun, Seo In Young, Cho Min Ah
3rd Generation (2008-2009)
  Park Jung Ah, Kim Eun Jung, Seo In Young, Baby J
4th Generation (2010-2015)
  Semi, Kim Eun Jung, Kim Ye Won, Baby J
Discography
Korean
1st Generation
 1st album: Discovery, 2001

2nd Generation
 2nd album: Again, 2002
 3rd album: Beloved, 2003
 Digital single: Passion, 2005
 4th album: Super Star, 2005

3rd Generation
 5th album: Kitchi Island, 2008
 Digital single: Kitchi Island 2, 2008
 Digital single: Super Star, 2009
 6th album: Sophisticated, 2009
 6th album repackage: End And..., 2009

4th Generation
 Digital single: Back It Up, 2011
 Digital single: Pass, 2011
 1st Mini album: Look At Me, 2012
 Digital single: Hot & Cold, 2013
Japanese
2nd Generation
 1st single: Kokoro ga Tomaranai, 2004
 2nd single: Mune Ippai no Kono Ai wo Dare Yori Kimi ni, 2004
 3rd single: Delight Sweet Life, 2004
 4th single: Shiro no Fantasy, 2005
 1st album: first, 2005

 5th single: Super Star, 2005
 Japanese ed. of 4th Korean album: Super Star, 2005