Baby V.O.X Fansite
Special Album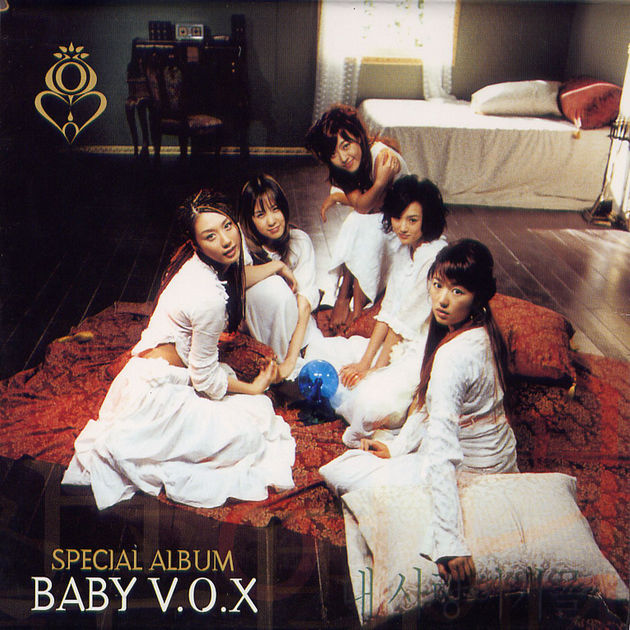 Info
Release date: April 23, 2002
Language: Korean, English
Label: DR Music, Doremi (도레미)
Tracklist
CD1 – Non-stop Dance Mix
| # | Name | Lyrics | Music | Arrangement | Original album |
| --- | --- | --- | --- | --- | --- |
| 1 | 우연 (우울한 우연) (Ooyeon (Uulhan Ooyeon), lit. Coincidence (Gloomy Coincidence)) a | Kim Chang Hwan | Kim Chang Hwan | | NEW |
| 2 | Go | Kim Yura | Kim Yura | | NEW |
| 3 | Intro | | | | NEW |
| 4 | 배신 (Baeshin, lit. Betrayal) | Yang Jae Seon | Kim Hyung Seok | | Why (2000) |
| 5 | Game Over | Yang Jae Seon, Kim EZ | Kim Hyung Seok | Kim Hyung Seok | Boyish Story (2001) |
| 6 | 야야야 (Ya Ya Ya) | Kim Hyung Seok, Yeo Jeong Yoon | Kim Hyung Seok | Kim Hyung Seok | BABY VOX II (1998) |
| 7 | Get Up | Seo Yoon Gyeong | Kim Hyung Seok | Kim Hyung Seok | Come Come Come Baby (1999) |
| 8 | Killer | Kim Jong Suk | Kim Hyung Seok | Kim Hyung Seok | Come Come Come Baby (1999) |
| 9 | Why | Yang Jae Seon | Kim Hyung Seok | Kim Hyung Seok | Why (2000) |
| 10 | Change | Kim Tae Hee | Joo Young Hoon | | BABY VOX II (1998) |
| 11 | 머리하는 날 (Meori-haneun Nal, Haircut) | Han Kyeong Hye | Won Sang Woo | | EQUALIZEHER (1997) |
| 12 | 인형 (Inhyeong, lit. Doll) | Yang Jae Seon | Kim Hyung Seok | Kim Hyung Seok | Boyish Story (2001) |
| 13 | Love and Extasy [sic.] | Won Sang Woo | Hong Seok | Hong Seok | Come Come Come Baby (1999) |
| 14 | 비밀 (Bimil, lit. Secret) | Kim Yong Ho | Shin Seon Ho, Kim Jay | | EQUALIZEHER (1997) |
CD2 – Non-stop Dance Mix
| # | Name | Lyrics | Music | Arrangement | Original album |
| --- | --- | --- | --- | --- | --- |
| 1 | Intro | | | | NEW |
| 2 | Cut | Jo Eun Hee | Shim Sang Won | Shim Sang Won | Boyish Story (2001) |
| 3 | 회상 (Hwesang, lit. Recollection) | Kim Hyung Seok, Hoony Hoon | Kim Hyung Seok | Kim Hyung Seok | Why (2000) |
| 4 | 사랑해요 (Saranghaeyo, lit. I Love You) | Kim Jong Suk | Bang Si-hyuk | Bang Si-hyuk | Come Come Come Baby (1999) |
| 5 | Mask | Kim Nam Hee | Hong Seok, No Young Joo | Hong Seok | Come Come Come Baby (1999) |
| 6 | Bad Boy | Yoo Eun Jin | Bang Si-hyuk | | Why (2000) |
| 7 | Come to Me | Yang Jae Seon | Kim Hyung Seok | Kim Hyung Seok | Boyish Story (2001) |
| 8 | Lucky 7 | Hoony Hoon | Lee Hyun Seung | Lee Hyun Seung | Boyish Story (2001) |
| 9 | Puzzle | Jo Eun Hee | Kim Hyung Seok | Kim Hyung Seok | Boyish Story (2001) |
| 10 | 올가미 (Olgami, lit. Lasso) | Lee Hyun Seung | Jo Eun Hee | | Why (2000) |
| 11 | Summer Story | Kim Nam Hee | No Young Joo | Hong Seok | Come Come Come Baby (1999) |
| 12 | 패자 부활전 (Paeja Buhwaljeon, lit. Consolation Match) | Kim Tae Hee | Joo Young Hoon | | BABY VOX II (1998) |
| 13 | Love and Extasy [sic.] | Won Sang Woo | Hong Seok | Hong Seok | Come Come Come Baby (1999) |
| 14 | 꽃무늬 비키니 (Kkot-munui Bikini, lit. Floral Bikini) | Kim Jong Suk | Bang Si-hyuk | Bang Si-hyuk | Come Come Come Baby (1999) |
| 15 | Sugar Baby | Choi Soo Jung | Choi Soo Jung | Moonstone | BABY VOX II (1998) |
CD3 – Ballad
| # | Name | Lyrics | Music | Arrangement | Original album |
| --- | --- | --- | --- | --- | --- |
| 1 | Missing You | Kim Jong Suk | Kim Hyung Seok | Kim Hyung Seok | Come Come Come Baby (1999) |
| 2 | 허락 (Heorak, lit. Consent) | Lee Hyun Jung | Shin Yeon Ah | Kwak Young Jun | Why (2000) |
| 3 | Waiting | John Anonymous | Won Sang Woo | | EQUALIZEHER (1997) |
| 4 | Before Sunrise | Jo Eun Hee | Lee Hyun Seung | | Why (2000) |
| 5 | 하늘과 함께한 사랑 (Haneul-gwa Hamkke-han Sarang, lit. Love Shared With The Sky) | Kim Nam Hee | Won Sang Woo | Wong Sang Woo | Come Come Come Baby (1999) |
| 6 | Lux (빛) (Bit, lit. Light) | Shin Yeon Ah | Lee Hyun Jung | Kwak Young Jun | Why (2000) |
| 7 | 슬픈별에서 (Seulpeun Byeol-eseo, lit. From A Sad Star) | Kim Hyung Seok | Yang Jae Seon | | Why (2000) |
| 8 | 내 사랑이기를 (Nae Sarang-igireul, lit. ?) | Yang Jae Seon | Kim Hyung Seok | Kim Hyung Seok | Boyish Story (2001) |
| 9 | 부디 (Budi, lit. By Any Means) | Kim EZ | Kim EZ | Kim EZ | Boyish Story (2001) |
| 10 | To. Angel | Yoon Eunhye | Lee Hyun Seung | Lee Hyun Seung | Boyish Story (2001) |
| 11 | The One | Lee Hee Jin | Lee Hee Jin | Kim Shin Il | Boyish Story (2001) |
| 12 | 마지악 선물 (Majimak Seonmul, lit. Last Gift) | Kan Miyoun | Kan Miyoun | Lee Hyun Seung | Boyish Story (2001) |
VCD
| # | Name |
| --- | --- |
| 1 | 우연 (우울한 우연) – Music Video ("By Chance" - Music Video) |
| 2 | 김이지 – Car Racing 도전기 (Kim EZ – Car Racing Challenge) |
| 3 | 이희진 – 나만의 오리비법 공개 (Lee Heejin – Revealing My Secret Recipe) |
| 4 | 심은진 – Let's Go Squash (Shim Eunjin - Let's Go Squash) |
| 5 | 간미연 – 야채 Family Party (Kan Miyoun – Vegetable Family Party) |
| 6 | 윤은혜 – 놀이동산으로의 초대 (Yoon Eunhye – Invitation to the Amusement Park) |
| 7 | BABY V.O.X 진수성찬 Talk Show (BABY V.O.X. Sumptuous Feast Talk Show) |
a Thai releases of Special Album under GMM Grammy used the English title "By Chance" for this song. It is also translated unofficially as "Accident."
Source: Album booklet
Notes
The origins of "By Chance"
"By Chance" (우연 (우울한 우연)), written and composed by Kim Chang Hwan, was originally released by the K-Pop group Kola on their 1996
debut album
. Later, in 1999, the song was remade by the Japanese group COLOR (later known as Buzy) and released as the B-side on their single "Double or Nothing" with new Japanese lyrics and new music, also done by Kim Chang Hwan (sometimes credited as KC Harmony on this release).
1
The single included three versions of the song, including a "Deep House Mix" and "Club Re-Mix."
2
Baby V.O.X remade the song for
Special Album
with new music by Kim Chang Hwan and the original Korean lyrics in 2002, which is included on track 1. Baby V.O.X later promoted COLOR's version of the song with the original Korean lyrics during summer 2002 as the "Latin Remix." This version was later included on the compilation album
Best Album
(2007) on track 6. A "Deep Club" remix of the song was released on
Devotion
(2003) on track 13.
All versions of "By Chance":
Kola - 우연 (우울한 우연) (1996) (listen)
COLOR - 恋より大事なものはない (1999) (listen)
COLOR - 恋より大事なものはない (Deep House Mix) (1999) (listen)
COLOR - 恋より大事なものはない (Club Re-Mix) (1999)
Baby V.O.X - 우연 (우울한 우연) (2002) (listen)
Baby V.O.X - 우연 (Latin Remix) (2002)
(listen)
Baby V.O.X - 우연 (Deep Club Re-Mix) (2003) (listen)
Music Videos
Performances