Baby V.O.X Fansite
Ride West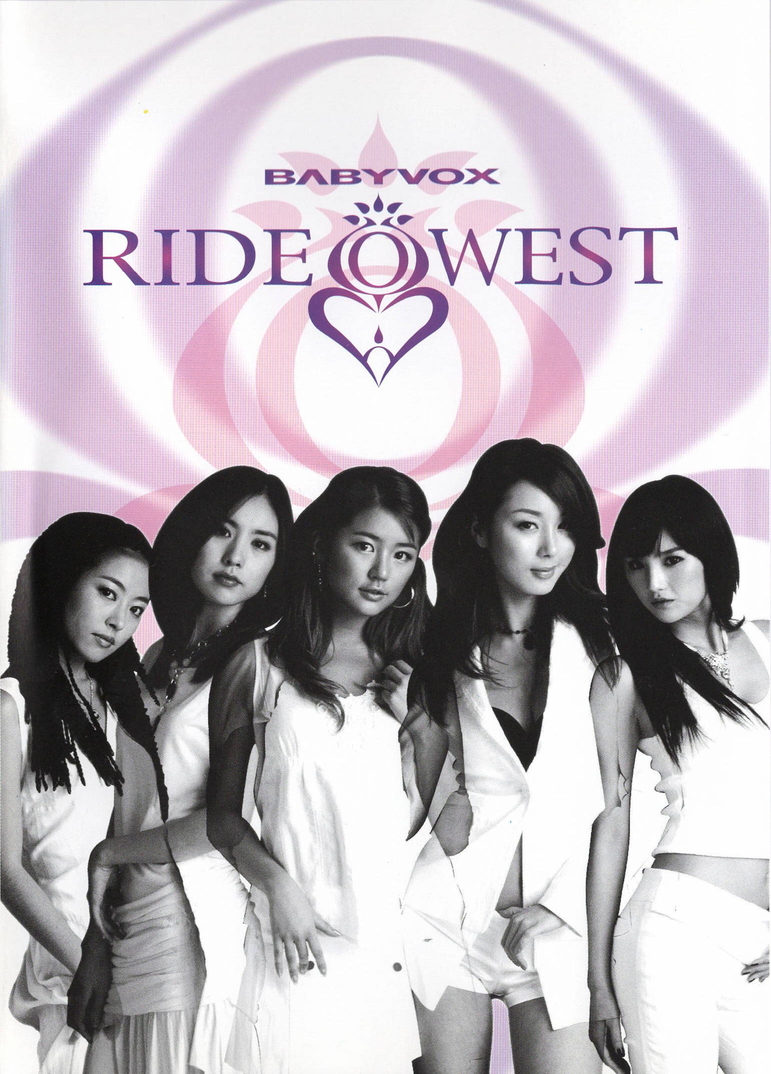 Info
Release date: March 18, 2004
Language: Korean, English, Chinese, Japanese
Label: DR Music, EMI
Tracklist
| # | Name | Lyrics | Music | Arrangement |
| --- | --- | --- | --- | --- |
| 1 | Introa | | ONE GODb | ONE GOD |
| 2 | Xcstasy – English ver. | Floss P, ONE GOD | Floss P, ONE GOD | ONE GOD |
| 3 | Xcstasy – Korean ver. | Floss P, ONE GOD | Floss P, ONE GOD | ONE GOD |
| 4 | Xcstasy – English Remix ver. | Floss P, ONE GOD | Floss P, ONE GOD | ONE GOD |
| 5 | Play Remix – English ver.c | | | |
| 6 | Play Remix – Korean ver. | | | |
| 7 | Play Remix – Extended ver. | | | |
| 8 | The First And Last | ONE GOD | ONE GOD | ONE GOD, THA BONG |
| 9 | Move Your Body | ONE GOD | ONE GOD | ONE GOD, THA BONG |
| 10 | I Want You Back | ONE GOD | ONE GOD | ONE GOD, THA BONG, Chun Il Kim |
Bonus Tracks
| # | Name | Lyrics | Music | Arrangement |
| --- | --- | --- | --- | --- |
| 11 | I'm Still Loving Youd | | | |
| 12 | Go – Japanese version | | | |
| 13 | Father & Ie | | | |
aAdditional credits: Scratches by John Doe "K", keys played by ONE GOD and Steven Kelly
bAlso credited as "Shin Ill aka (One God) Kim"
cThis song is a remake of Jennifer Lopez's 2000 song "Play" with new lyrics and music. There are no credits for tracks 5, 6, or 7 in the album booklet other than "Featuring J.LO & DAZ DILLINGER"
dThis is the same song from Devotion with a new instrumental.
eFrom the soundtrack of Don't Tell Papa (2004)
Source: Album booklet
Notes
The album comes in a double DVD case with the album CD and a DVD containing the music video for the English version of "Xcstasy" and the documentary film 2Pac 4 Ever (2003), directed by Jae Lee Thomas.
"Xcstasy" was retitled "환상" (lit. Fantasy) for SBS Inkigayo to avoid any reference to MDMA (commonly known as "ecstasy")
Tupac's rap featured in "Xcstasy" is originally from his song "Can U Get Away" (Me Against The World, 1995) and a scene of him rapping it is featured in the 2Pac 4 Ever documentary.
Music Videos
Performances
Extras