Baby V.O.X Fansite
Devotion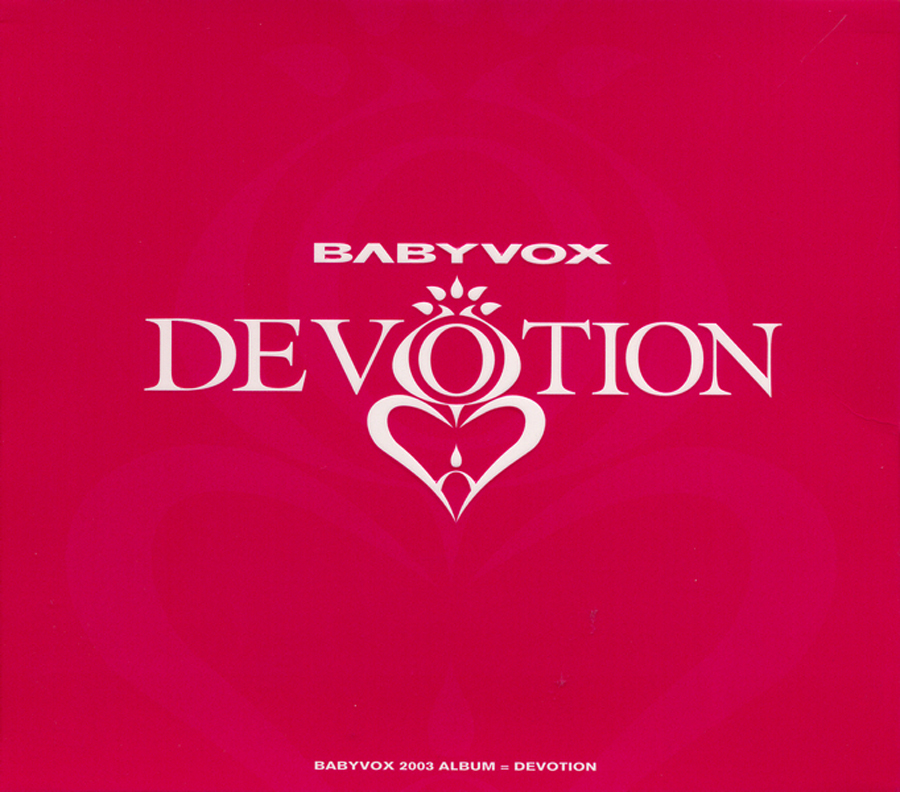 Info
Release date: April 3, 2003
Language: Korean, Chinese
Label: DR Music, Doremi (도레미)
Tracklist
| # | Name | Lyrics | Music | Arrangement |
| --- | --- | --- | --- | --- |
| 1 | 나 어떡해 (Na Eotteokhae, lit. What Should I Do?) | Kim Chang Hwan | Kim Chang Hwan | Kim Woo Jin |
| 2 | 바랜 (Baraem, lit. Wish) | Kim Chang Hwan | Kim Chang Hwan | Kim Woo Jin |
| 3 | 슬픈 기대 (Seulpeun Gidae, lit. Sad Expectation) | Kim Woo Jin | Kim Woo Jin | Kim Woo Jin |
| 4 | 상처 (Sangcheo, lit. Wound) | Kim Woo Jin | Kim Woo Jin | Kim Woo Jin |
| 5 | 사랑인가봐요 (Saranginga-bwayo, lit. Maybe It's Love) | Kim Woo Jin | Kim Woo Jin | Kim Woo Jin |
| 6 | 나를 잡아줘 (Nareul Jabajwo, lit. Hold Me) | Kim Tae Yoon | Shim Sang Won | Shim Sang Won |
| 7 | Loveless | Kim Tae Yoon | Shim Sang Won | Shin Hyeong |
| 8 | 눈물 (Nunmul, lit. Tears) | Kim Woo Jin | Kim Woo Jin | Kim Woo Jin |
| 9 | 거짓 사랑 (Geojit Sarang, lit. Fake Love) | Kim Tae Yoon | Jeon Jun Gyu | Jeon Jun Gyu |
| 10 | 버려진 이별 (Beoryeojin Ibyeol, Abandoned Farwell) | Kim Woo Jin | Kim Woo Jin | Kim Woo Jin |
| 11 | 마지막엔 (Majimak-en, lit. In The End) | Kim Min Ji | Kim Min Su | Kim Min Su |
| 12 | A.S.A.P. (As Soon As Possible) | Kim Tae Yoon | Shin Hyung | Shin Hyung |
| 13 | 우연 (Deep Club Remix) (Ooyeon, lit. Coincidence) | Kim Chang Hwan | | |
| 14 | I'm Still Loving You | Sijie | Larry Feng | Shin Hyung |
a
"Wish" is a remake of Park Mi Kyung's "언제가는" (lit. Someday) from her 4th album
집착
(lit. Obsession) (1999)
Source: Album booklet
Notes
Alternate English tracklist
(from the Thai GMM Grammy cassette edition of
Devotion
):
Side A
What Should I Do?
Hurt
I'm Still Loving You
Wish
Maybe It's Love
Sad Expectation
Please Hold Me
Side B
Loveless
Fake Love
Tears
Left Hope
At Last
A.S.A.P. (As Soon As Possible)
By Chance (Deep Club Remix)
Music Videos
Performances

***STROBE WARNING 1:58-2:13, 3:39-3:55***
Note: Most performances of "What Should I Do?" use some form of strobe lights.






Extras








Oops!